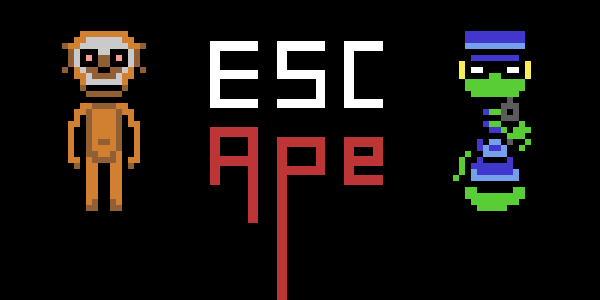 ESC Ape
A downloadable game for Windows, macOS, and Linux
You are an ape and you must escape.
An old school inspired shooter made in 7 days for the 7DFPS 2014 ( http://7dfps.com/).
Features:
2 awesome weapons, 3 awesome levels (play in any order!) and 15 awesome bananas (5 hidden in each level)!
Pixel art in 3D space, with the Commodore 64 color palette (because why not).
Music! (or something similar to it)
For other awesome things, visit http://volumeupstudios.com/.
Version differences:
v1.0: Original jam version
v.1.1: A few enemy pathfinding fixes
v.1.2: One low quality menu texture fix, level stats now always show the right level name and no stats are shown if you hit esc in a level
Known bugs:
- Some snakes occasionally decide not to shoot at the player, only follow him
- Some doors occasionally stay open after resetting a level (this doesn't seem to affect doors that need keycards, however)
- Turrets sometimes don't take damage as they should (even from the gun, they shouldn't take damage from the knife)
- A slight possibility to clip trough walls in certain areas
Install instructions
Unzip anywhere, double click the ESC_Ape.exe (or .app or .x86) and have fun!